Make better use of your truck
All the space above your bed is wasted unless you've got a rack system - with BillieBars you can keep your tonneau cover, mount a storage case on top of BillieBars, which ultimately saves valuable bed space!
The Cargo Lowdown
Before we get into the good stuff, make sure you have a set of BillieBars first.
Shop Bedrack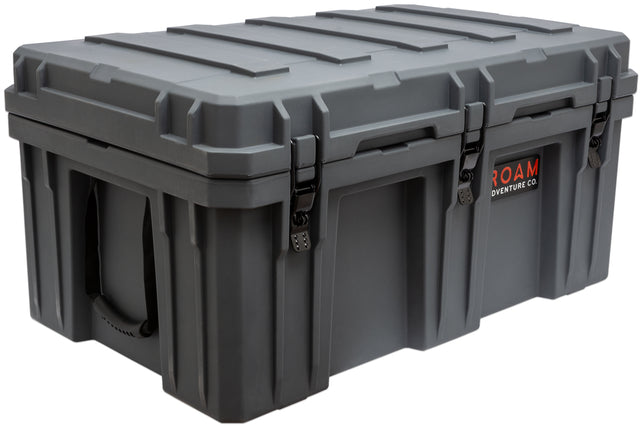 ROAM ADVENTURE
There are a lot of great cargo boxes on the market. We specifically resell ROAM Adventure Co. cargo boxes. They have a military grade seal, so you can keep your belongings safe and out of the elements.
Mounting Using Rugged Mounts
The cleanest and most secure way to mount the ROAM cases to BillieBars is via ROAM's Rugged Mounts. They're lockable, and easily mount to our crossbars via an M8 kit from us (sold separately). You are limited on spacing so make sure you match things up with the other activities planned by looking at the dimensions of the box.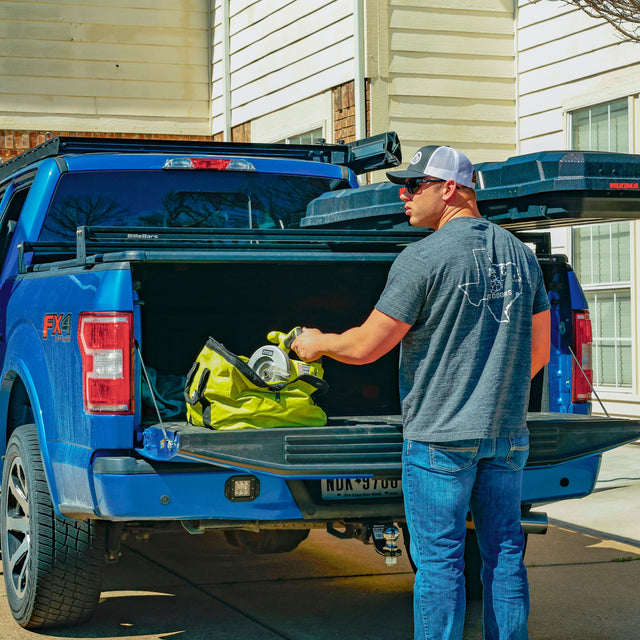 Other Cargo Options
If you already have a cargo box, the easiest and quickest way to attach them to BillieBars is to drill 4 holes in the bottom of the box (where they match up to the t slots of the crossbars) - and bolt the box down via our M8 kit. The M8 kit includes 4 stainless steel push button t nuts, that drop in so you have a thread to bolt into.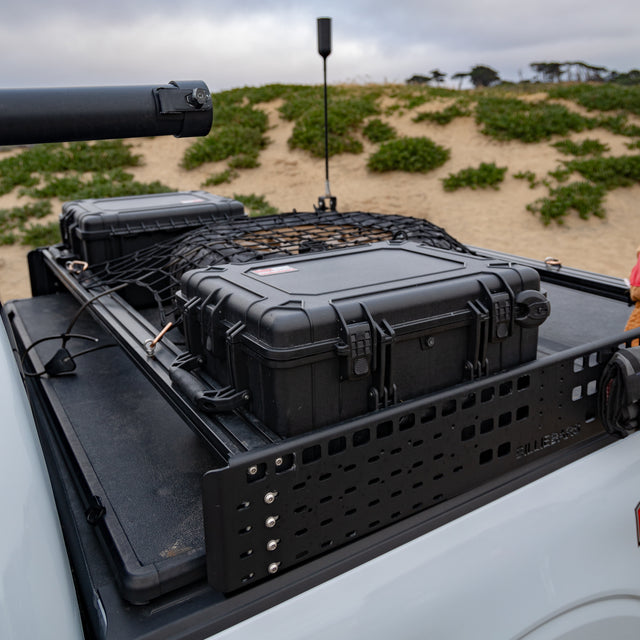 Ingenuity Reigns
At the end of the day, modular freedom was and is the basis of the BillieBars system. Since we have 6 t slots on the crossbars (2 on top, 2 on the bottom, and 1 on each side), if you've got an idea, you can probably make it happen. Here (above/right) we have a customer who is resting the cargo boxes in between their BillieBars on top of their hard tonneau cover (Extang Solid fold ALX) and securing them via the t slot on the side of the crossbar, via our M8 kit.