Water Sports
For the water minded, folk
Kayak Rack for Trucks
We have 2 key accessories for mounting kayaks, but they also work for SUP's, and certain canoes - don't have a set of BillieBars yet? You may want to start there first.
Shop Bed Racks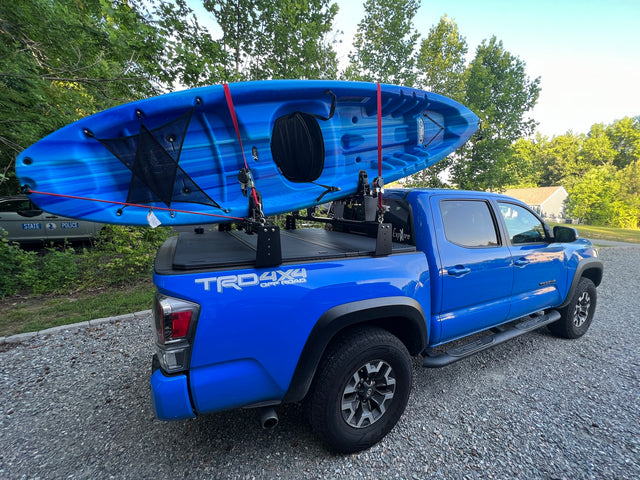 Mounting a kayak
Hauling a kayak and keeping your tonneau cover can be a tricky proposition, especially with a short bed. We came out with our LowPro mount to solve that problem, putting the kayak on an angle. The LowPro kit includes a 7" riser (kayak mounts no included) - which pair well with our standard 5" or 8" brackets.
Take it up top
If you want to get your kayak, SUP, or canoe completely above the cab, our HighPro mount is a great option. Over engineered, and extremely sturdy, it's height adjustable and only takes up 8.5" of crossbar space. The horizontal crossbar (on top) is 14" wide but we can make it longer, if needed - just send us a note!
Have a retrax XR tonneau cover?
If you're running a tonneau cover with integrated t slots along the bed rail, such as the Retrax XR, or something similar (see our tonneau cover fitment guide for compatible covers), we have cab height racks that are perfect for the larger canoes and kayaks - allowing full bed access for all your belongings below.
Tie Down Kit
No matter what you chose to mount your kayak, canoe, or SUP, having a tie down kit handy is never a bad idea. Utilizing a stainless eye hook that bolts into our crossbars by way of a drop in t nut (just simply drop the push button t nut into the crossbars, no need to remove the crossbars) - it provides 4 mounting points perfect to secure your vessel!