Awnings
Things are better in the shade
Truck Awnings
An awning is a great add on to your truck build - perfect for a sunny day, or ducking out of the rain when El Nino rolls in. Luckily, we've got you covered. If you don't have a set of BillieBars, you'll want to start there first.
Shop BillieBars
Options, upon options
You'll probably want to start by choosing an awning that speaks to you - there's a ton of great ones on the market, including the now very popular 270 degree awnings that provide shade for you and the entire crew
Check out some awnings
The BillieBars Awning Mount
Simple, effective, and STRONG. We designed our awning mount to be industrial strength. It all starts with the foundation - we made a base that snuggly fits around our crossbars, and bolts in via t nuts that slide into the channels of the bars - so it's extremely secure, allowing you to move it wherever you have crossbar space. From there, we bolt into our same beefy crossbar - utilizing through holes that send a bolt the whole way through. We top it with a steel dual powder coated bracket, which is height adjustable and offers a total of 4 mounting points for your awning of choice.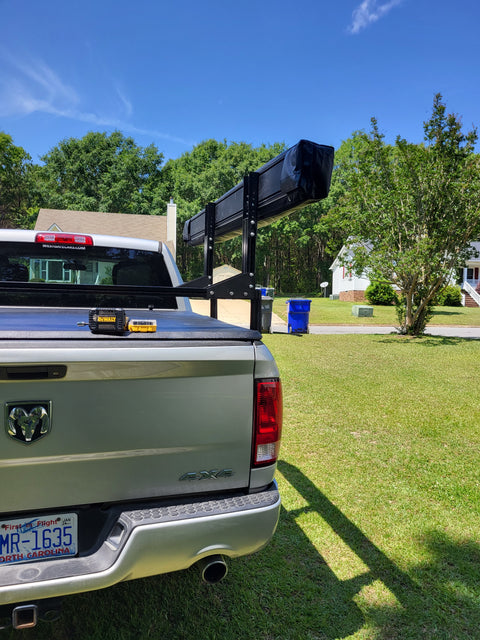 Space for More
The base of the BillieBars Awning Mount only takes up 8.5" of mounting space - so you have room for all of your other cargo. Not only it is extremely strong but it's also slim in profile, so you can easily open up your roof top tent (if you're running one) without interference. If you're using your truck for work, an awning can be a great way to keep you and the rest of your crew shaded over lunch, or a dry workspace for during those rainy days.
Truck + BillieBars + Awning
It's a great combination, don't kid yourself. You can keep your tonneau cover, add our awning mount, mount your awning of choice, and sit comfortably in the shade.
Shop Awnings